Online CBT: Discover How Online Therapy Using Cognitive Behavior Therapy Work
Ready To Give Online Therapy and Online Cognitive Behavior Therapy (CBT) A Try But Wondering How It Will Actually Fit Into Your Life?
Are you looking for online cbt (cognitive behavior therapy)?
Are you  wondering if online cbt (cognitive behavior therapy) is as effective as in office cognitive behavioral therapy? 
Do you want to make sure that you receive a highly effective online therapy? 

Do you want to make sure that the cognitive behavioural therapist you work with is a great fit before paying anything?

Are you concerned about how you will fit in CBT therapy (cognitive behavior therapy) sessions?
Are you looking for the most efficient way to receive the benefits of cognitive behavioural therapy (CBT) without the hassles?
Perhaps you struggle with constant worry and stress due to a hectic lifestyle that doesn't afford you the time to engage in self-care or take a weekly trip to a therapist's office. Or you may be trying to strike a healthy work-life balance, but you find that anxieties about juggling commitments get in the way of feeling confident or at ease. 
You may find yourself pestered by repetitive thoughts and unhelpful behaviors that tend to sabotage your potential for growth and healing. Perhaps you're caught in a desperate loop of negative thinking and despite being aware of the benefits of mindfulness and meditation, you don't have the resources or know where to start. 
If you could simply take more time for yourself, develop better habits, and just slow down, it's likely that you would enjoy your time and relationships more fully. And while life's demands may have prevented you from seeking therapy in the past, the availability of online CBT opens up an opportunity for growth and self-actualization wherever you may be in your life—and in the world.
Life Can Get In The Way of Living and Growing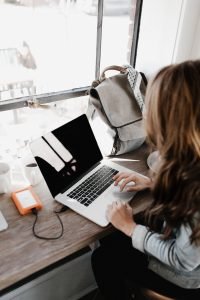 Life so often drops us onto a treadmill that seems to be running at full speed. Between demanding work schedules, meeting the needs of family and friends, and ensuring that we are getting the most out of our experiences, it can feel as though a sense of balance and vigour are impossible to maintain. Symptoms of anxiety or depression take many forms—sleeplessness, difficulty focusing, and constant worry to name a few—and they quickly drain us of our zest for life.
Life's expectations never seem to cease, as we are caught in never-ending cycles of transition and transformation. While adjusting to a new culture, a new job, or age-old societal standards that are trying to force our way in life, it can be easy to feel overwhelmed. We often become overly preoccupied with how we appear to others, as opposed to figuring out what we really want out of our time here.
Admittedly, it is difficult to set aside the time needed to devote to genuine self-exploration and growth. Moreover, there is a world of information out there about which tools and strategies will best aid you on the journey. Even within the field of psychotherapy, there are so many modalities, methods, and approaches to consider.
Yet, the cognitive behavioural therapy approach provides you with an opportunity to slow down, examine, and formulate a plan that builds on your natural strengths and insights. And the accessible nature of Online CBT removes the barriers that can often keep you from seeking the help you need.
Online CBT Brings the Power Of Cognitive Behavioral Therapy To You
A strive towards perfection drives so many unhealthy and counterproductive behaviours, including a lack of self-compassion behind all the worry and stress. CBT affords you the skill set needed to rewire your brain's channels as you exercise negative thought patterns into positive, advantageous ones. 
As a culture, we are not conditioned to value the relationship between our thoughts, feelings, and actions, but cognitive behavioural therapy provides the precise opportunity for those channels to work in tandem, so that we can get the most out of life. Working from an integrated therapeutic perspective acknowledging that there is no one-size-fits-all therapy, I tailor online CBT sessions to meet the needs of each client. 
Throughout the course of therapy, you will learn a skill set that you can take anywhere and apply to any situation. Together, we will train your mind in thinking more productively and managing emotions. In our sessions, we will also explore what you experienced during the week, how you reacted to it, and where opportunities for skill-building are. 
Viewing each online CBT therapy session as a platform for exploring the "three T's"—Tools, Topic, and Theory—I will invite you to cultivate and practice new tools together, discuss how they are applied in the specific context of a particular situation (or topic), and gain an understanding of the cognitive theory behind each tool. Following your lead, I will help you gain proficiency in techniques proven to correctly identify thoughts and feelings, reduce reactivity, and build mental resilience.    
As you become more aware of the inner monologue that has formed your beliefs and relationship to the world around you, you will see clearly where your thoughts are beneficial and where they are damaging. With online CBT, or in office cognitive behavioral therapy , you can change the tone of the messages you feed yourself on a daily basis, paving the way for more confidence, clarity, and joy. Over time, you will find that your actions are more deliberate and that your life has regained the insight, intention, and energy that once felt lost to you. 
Cognitive behavior therapy is considered the "gold standard" of psychotherapy, and as a therapist trained in both the UK and US, I can attest to CBT's ability to treat clients coming from a wide variety of experiences and perspectives. I have witnessed first-hand the effectiveness of online CBT and in office cognitive behavior therapy. 
CBT as well as CFT (Compassion Focused Therapy) helps individuals overcome anxiety, adapt to life transitions, and foster gentler, kinder relationships with themselves and the world around them. And having been among the pioneering therapists to offer mental health counseling virtually, I have over a decade's experience of providing CBT online. 
It's time to learn how to be on your own side once and for all. With online CBT, the possibilities for building your confidence and making more intentional choices are endless. Let's explore those possibilities together.  
Perhaps you are considering online cognitive behavioural therapy, but you have some concerns…
Is online CBT as effective as in-person therapy?
Absolutely. Many studies show that online therapy is just as effective as having face-to-face sessions.[1] In my own experience as a therapist, I have found online CBT sessions to in fact be more effective for treating clients and helping clients navigate anxiety and life transitions.
The accessible nature of online counselling creates a feeling of flexibility and likely a stronger sense of control over the therapeutic process. I also find that removing a commute from the equation helps clients to transition in and out of the tranquil therapeutic mindset more easily. Instead of hopping in a car after sessions and fighting through traffic to get to the next destination, you'll remain in the safe, comfortable space of your home. 
What should I look for in an online CBT therapist? 
If you think you could benefit from cognitive behavioural therapy, you will first want to find a highly trained and experienced therapist who is licensed in your area. I am a fully accredited CBT therapist in the UK and maintain equally rigorous credentials in the UK and US as a compassion focused therapy provider and board-certified life coach. 
And while many mental health professionals made the transition to online therapy during the COVID-19 pandemic, I have conducted virtual sessions for years. As such, I am familiar with the technology and the snafus that typically come up during online sessions. Instead of being focused on troubleshooting a problem or feeling overwhelmed with connection issues, I will come to therapy prepared to focus on you. 
What logistical considerations do I need to make for online CBT with you?
Online CBT sessions last 50 to 60 minutes. In order to participate, you will need an internet connection and a device through which we can talk. Most online therapy takes place on secure, HIPAA-compliant platforms—such as Zoom, Web-Ex, or Doxy.me—to ensure that confidentiality is maintained. If there is an app that you prefer, please let me know, and we can discuss options.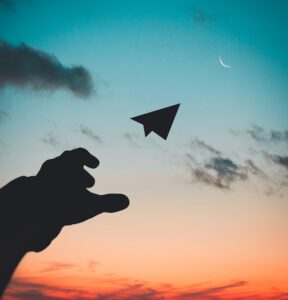 CBT And Exposure Therapy For Fear Of Flying Flying is a convenient way to travel around the country and the world. It gives us more
Read More »
Give Yourself The Gift Of Self-Compassion From The Comfort Of Home with Online CBT
If you are looking for an easy and accessible way to receive the benefits of cognitive behavioral therapy (CBT), online therapy may be a great fit. To schedule an initial consultation to find out how I can serve your unique needs, book yourself in for an online CBT Test Drive directly through my online booking system. This is a chance for us to meet virtually and discuss how online CBT therapy can be of help to you.