Struggling With Life Transitions?
Are you undergoing a big change or embarking on a new chapter in your life?
Has your world turned upside down after a recent development?
Are you in search of emotional support and guidance as you adapt to life's transitions? 
Perhaps you're making a big change in aspects of your day-to-day, at work or at home. Maybe you just went through a big breakup and are struggling to adjust to life without a partner. It could be that you're considering a change in your career, or that you were recently signed off due to work-related anxiety. Not to mention, in recent years, coping with the pandemic is a huge change that is not easy. 
Life transitions are everywhere. There are often predictable (and helpfully understandable) stages of life transitions, though these aren't necessarily experienced in a linear manner. 
Alternatively, you may live abroad as an expat, or travel frequently for work and feel as though you're bouncing around, unable to maintain consistent relationships or find your place among various communities. Perhaps you're looking for support with adapting to a new culture or as you struggle with homesickness.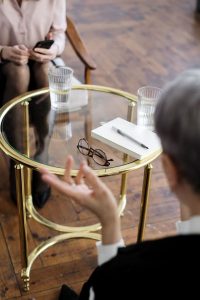 The life transitions you're adjusting to may not involve world travel but rather personal transformations concerning your identity, perspective, and path in life. 
Perhaps you're considering coming out to your friends and family as LGBTQI+, and in search of LGBTQ specialist counseling or cognitive behavior therapy from a culturally competent therapist who can provide guidance and clarity.
Regardless of if your big life change such as planning a wedding was welcome, or whether a life change was unexpected thrust upon you, adjusting can be difficult. You may feel anxious about the future and unstable about the present. 
Perhaps symptoms of anxiety have bubbled to the surface, causing you to feel sad, restless, withdrawn, and self-critical. Maybe you're so preoccupied with the adjustment that you feel as though you're not truly experiencing life and just going through the motions. 
You may think if you could just process, adapt, and heal from the transition you have undergone, you could have an opportunity to truly engage with the present again. But while it may not seem like you have control over new circumstances, you can make peace with what has changed and life coaching as a part of life transitions counseling can help you plan your future too. 
Life transitions counseling with coaching not only gives you tools to manage your immediate stress and anxiety, but it can also instill you with hope about the future. 
Peace Happens With Progress, Not Platitudes
We've all heard the expression "Change is the only constant." Though that may be true on some level, most of us—if we're being honest with ourselves—prefer the stability of the known and familiar and are only comfortable with change when it happens slowly, with lots of notice. 
Sudden and slow life transitions alike can be difficult and unfortunately, most of us are not taught the coping skills needed to successfully navigate change despite the fact that all of us will be affected by some form of life transition at one point or another. 
Our culture is moving through an era during which a "Keeping Up With The Joneses" mentality is now translated on far-reaching and all-consuming technological platforms. The "Instagram-ization of life" centers on the myth that everything comes down to our effort: if we can simply manage to try hard enough, everything will be fine and only continue to get better. The truth is, however, that life throws all of us curve balls that knock us down from time to time. 
When this happens, society is quick to offer platitudes like "Just get on with it," "Keep going," "Think positively," "Have a stiff upper lip," and "What doesn't kill you makes you stronger!" We're expected to be grateful for what we have and function under the illusion that it's not okay to have a bad day–nevermind a bad week or month. 
If we can't "get on with it" on our own and without the support of others, we are made to feel weak or as though we have failed in some way. 
There is so much pressure to just be okay, but I'm here to assure you it's okay to not be okay! 
Accepting this simple fact is the first step towards reducing anxiety and healing. And if you're struggling with a big change or recent loss, you probably weren't given an opportunity to learn how to properly grieve and process the changes. 
With the help of a therapist who specializes in Life transitions therapy using Cognitive Behavior Therapy, can go a long way in helping you learn to adapt. 
CBT Counseling Puts Life Transitions Into Perspective So That You Can Learn And Grow
As painful as your experiences may be, CBT therapy allows you to heal as you develop a more compassion focused and improved inner relationship with yourself. Because I counsel clients without judgement or pressure, my therapeutic approach can help you examine your life transition from a place of compassion so that you can make the most out of the circumstances despite the challenges you face. 
Once you have completed the Initial Test Drive Session and initial paperwork, I will have a better sense of your concerns so that I can tailor CBT therapy sessions to meet your needs. Your job in therapy is to give me a sense of the what while my job is to offer you perspective and neuroscience-based strategies on the how so that we can collaborate to work through your adjustment. 
I am not interested in telling you how to think or act. Instead, I am invested in providing you with tools to help you come to your own conclusions and develop emotional resilience. As such, we'll begin counseling with elements of psychoeducation to help you understand what happens to the brain and body during significant changes. 
And right away, we'll incorporate neuroscience and coaching tools that you will use to cultivate coping strategies during moments of stress and anxiety. With coping tools in place, we will then begin to process what happened—in as many or as few details necessary—so that we can identify if and how past events are relevant to the future you want to create. 
During the final stage of counseling, we will shift into coaching mode and examine what kind of life you want moving forward and how you plan to engage your skill set for future transitions. Soon, you'll feel grounded and more in control of your narrative. And all along the way, we'll celebrate all the growth you have accomplished! 
My approach integrates Cognitive Behavioural Therapy (CBT), Compassion Focused Therapy (CFT), Life Coaching, and mindfulness to help you understand how you think and how your behaviours affect your emotional state. In addition, coaching strategies can help you make sense of your values and how you can cultivate a life that is in accordance with them. 
And finally, holistic methods like ecotherapy, movement, and laughter fill in the blanks as I tailor therapeutic strategies to your needs to ensure that you get the most out of life transitions counselling. 
I know what you're experiencing is difficult now—and I'm sorry you're going through it. But I'm not going to feed you another generic expression and tell you that it'll all be okay. I will, however, promise to facilitate growth and healing as much as possible so that you can come out the other side of your life transition with a deeper understanding of yourself.
Maybe you're ready to try life transitions counselling, but you have some concerns…
My life transition is just too painful—I don't know if I can get through this.
I understand where you are coming from. Before I developed a neuroscientific understanding of the connection between our thoughts, feelings, and behaviours, I was very sceptical that CBT, counseling and mindfulness could help to reduce anxiety. 
However, I invite you to just try out this form of therapy and join the large community of my clients who were pleasantly surprised at how much relief they found from their
anxiety during treatment
and how much they learned about themselves in a short period of time. 
If you do your part, I am confident that you will notice positive, sustainable change early on in the process. 
I know your experience is overwhelming, but finding help through counselling and cultivating a toolbox for coping can be extremely effective. 
The fact that you courageously reached out to find help tells me that you're capable of overcoming whatever challenge you may be facing right now. 
I don't even know where to begin with life transitions counselling. 
I find that structure and routine help to keep things organized and cause change to happen more quickly. Working together, we can design a plan and set up weekly projects to keep you on track and prevent overwhelm so that you know exactly what is happening from one session to the next. 
My life transition is unique; have you ever worked with someone like me before?
Definitely. I realize that every person's situation is unique, but I also believe that we all share aspects of the human experience. I specialize in helping people adjust to life transitions, and I know that in my own life, counselling has been extremely helpful in allowing me to navigate various stages of adulthood. Getting support saved me from extra pain and suffering. 
I love this work and watching my clients transform as they learn and grow. The people I see have been through a wide variety of life transitions. If you're curious about how I can help, make sure to sign up for a
Test Drive Session
to find out if we're a good match (link below). 
Do you feel as if you're more sensitive than others? Are you often exhausted after socializing and need to decompress? Has anyone ever told you
Read More »
Make Sense Of The Present So You Can Embrace The Future
If you're struggling to adapt after a big life transition at home, at work, or in your lifestyle, counseling can provide you with coping strategies and help you find clarity on what you want out of life. To get a sense of how I can help, schedule a Life Transitions Therapy Test Drive with me or feel free to contact me with any questions.